Last night, the Lakers played probably one of the worst games of the season in game one of the NBA playoffs against the Phoenix Suns. In particular, Anthony Davis posted a -18 rating in the game, in which it was the worst performance in his postseason career. The Suns took advantage as they were the aggressor from the start and dominated the Lakers on the glass. The Lakers are the team with the size, but the Suns dominated the rebounding and out hustled them. A few bright spots for the Lakers were LeBron James, Alex Caruso, and Montrezl Harrell who all posted a positive rating at the end of the game.
The Lakers couldn't really get anything going offensively as they struggled with their shot all game long . They feed off the play of their guards Kentavious Caldwell-Pope and their point guard Dennis Schroder who combined for 21 points, but weren't very good shooting wise. They were taken out of their offensive game completely as the Lakers had no flow going at all. The Suns were all over the place, getting rebounds, loose balls and it seemed that they wanted it more. The key to the Lakers winning this series is Anthony Davis. He cannot have a game where he was dominated by Ayton who had 21 points and 16 rebounds. Davis finished with 13 points and 7 rebounds while shooting 5/16 from the field. Davis was settling for a lot of outside shots and wasn't aggressive enough, especially in the paint where he was no where to be found.
Vogel is going to have to make tough decisions, and one of those decisions might be playing Davis at center for most of this series. Davis has made it publicly clear he prefers not to play at the five position, but it may have to come down to that. Drummond was close to a double-double, but he clogs up the lane a bit and Davis seems to be struggling with him on the floor. In the playoffs it's about situational match-ups and with Ayton out there at center for the Suns, it feels like they play small although Ayton is considered a big. He is very agile and has some quickness, and Drummond seems like he can't keep up wit Ayton's athleticism. Davis and Ayton match up better, but Davis is definitely going to have to step up his game and try to punish the Suns in the post.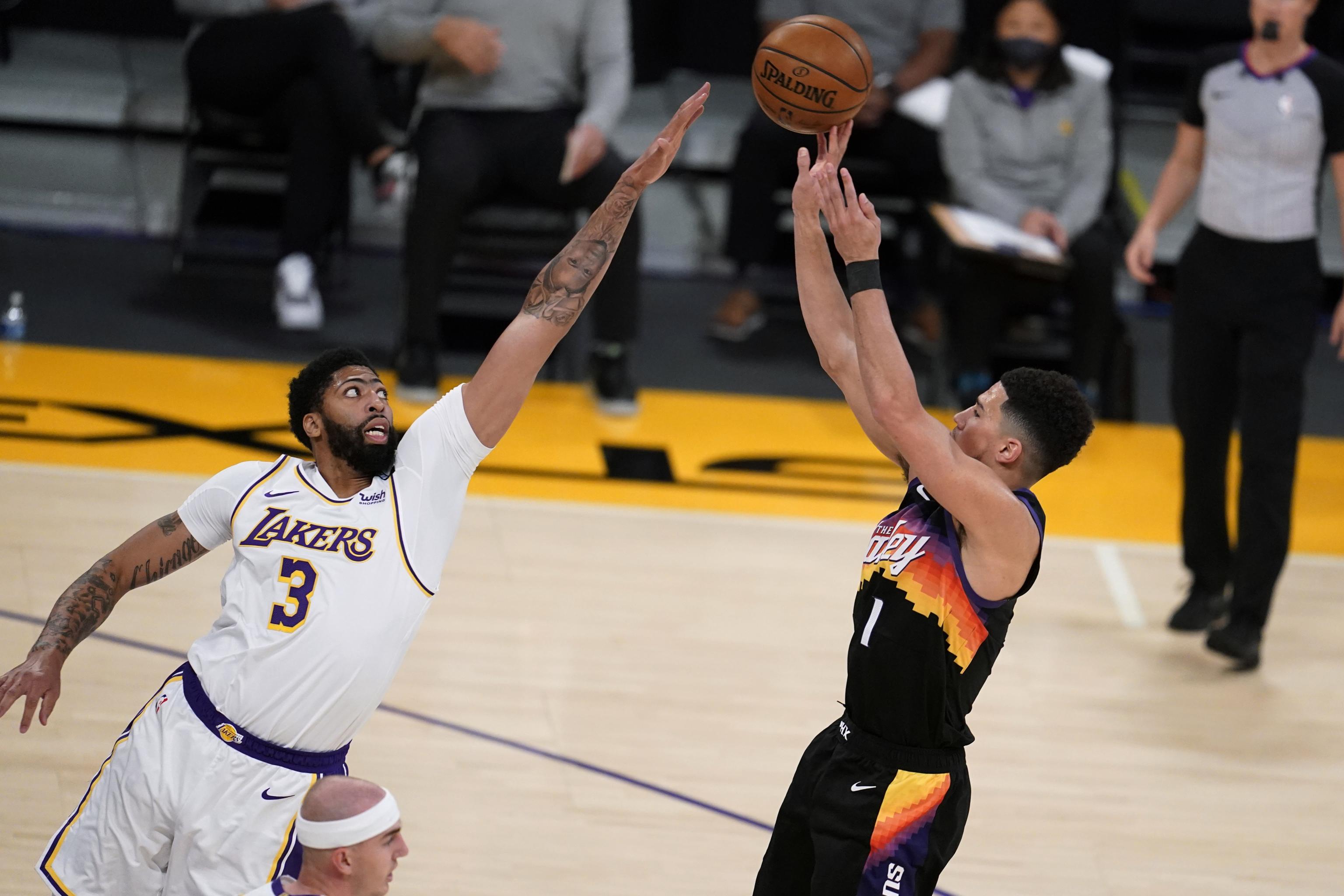 LeBron James ended up with a positive rating at the end, but he clearly still doesn't look like playoff LeBron,–at least not yet. He hasn't really been one hundred percent and he probably won't be, but he's also got to do more. There's an idea that I have floating around that could stir some controversy but it might be better for the team. Although LeBron might still have lingering effects of the previous high ankle strain injury, Vogel might want to try LeBron James back at the point guard position or have Alex Caruso start at the point. This would obviously make Schroder very unhappy, but it could be worth trying as Caruso is excellent defensively. If Schroder would be willing to come off the bench, he would have a green light to attack as much as possible. I also believe Gasol should get some minutes here and there as the offense and ball movement were stagnant with the second unit.
Surprised that Wes Matthews only got 11 minutes as he's played well both offensively and defensively lately. These are just some ideas that could get the Lakers going, but it's up to coach Vogel at the end to make the necessary adjustments for game two. I believe he will and the Lakers will play better tomorrow night. They must dominate the glass and get out of fast breaks more. They've got to make their open shots, especially being on the road. The Lakers didn't get blown out in game one, they just have to tune in and get things together. This will be a battle going forward so buckle up for a classic series.