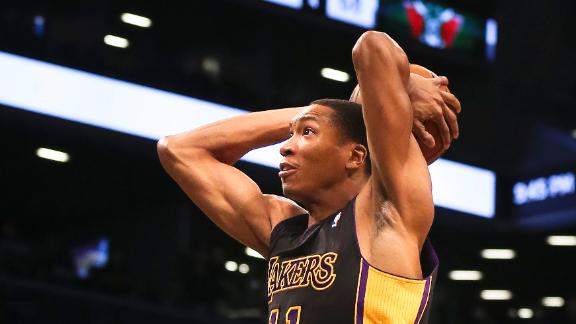 The Lakers donned new jerseys since the introduction of the Sunday white jerseys. The jerseys are dubbed "Hollywood Nights", and surely enough, the game had some drama. The Lakers started the game off very strong as they hit most of their shots. The team continued their dominance til halftime as Brooklyn couldn't get anything going. The second half, the Nets started to get a rhythm going and game back from a 27 point deficet. It was very close the last two minutes of the game, but it was the Lakers at the end who didn't fold and escaped with a 99-94 victory.
The Lakers have had trouble keeping big leads through most of the season. Tonight was no different. The team still has to learn to get that killer instinct if they want to finish games. They had to expel a lot of energy, due to the fact that they had to play hard to keep their lead. The Lakers were led by Nick Young, who scored 26 points off the bench, followed by Gasol who contributed 21 points. The Nets were led by Joe Johnson who had 18 points, and Teletovic with 17 points. The Nets have had their struggles as they have been riddled by injuries. When the Nets were put together, they looked like a very good team on paper. The Lakers know how "looking good on paper" can be deceiving. The Lakers who had 4 superstars last year struggled and were bounced out of the playoffs.
The Lakers still have a lot of work to do if they are thinking of making the playoffs. They must limit turnovers, especially on the road. The team has been quite woeful on the road, but tonight's win should help a little. The Lakers will head to Detroit and play the Pistons on Friday.